mario souleye treadway,mario treadway, alanis morissette, souleye, mc souleye, bob saget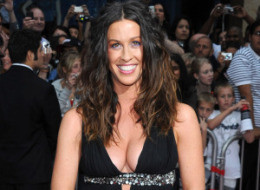 UPDATE:
Alanis
confirmed the news
on her Twitter Wednesday:
yes, happy news….i'm pregnant 🙂 we're so excited to start our family…. xo a

PREVIOUSLY:
Alanis Morissette has confirmed to Us Weekly that she is pregnant.
The singer, 36, married rapper Mario 'Souleye' Treadway, 30, in May.
She did not tell Us her due date, but she raised suspicions that she may be expecting when she showed off a bustier look a week before her wedding at a movie premiere, seen left.
This will be her first child.